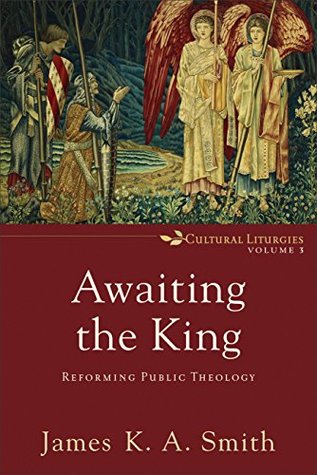 In this culmination of his widely read and highly acclaimed Cultural Liturgies project, James K. A. Smith examines the political through the lens of liturgy. What if, he asks, citizens are not only thinkers or believers but lovers? Smith explores how our analysis of political institutions would look different if we viewed them as incubators of love-shaping practices--not m...
| | | |
| --- | --- | --- |
| Title | : | Awaiting the King: Reforming Public Theology |
| Author | : | |
| Rating | : | |
| Edition Language | : | English |
---
Awaiting the King: Reforming Public Theology Reviews
Watch Smith's video comment here. A Baptist reviews it here....

This is the book I've desired to read for about the past three to four years. Someone finally wrote it. (I was starting to worry I'd have to write it myself). Chapters one and two bolster the political nature of the church. Then chapters three through six work out the implications for Chri...

In this final installment of the heralded Cultural Liturgies trilogy, James K.A. Smith invites us to reexamine the way we approach politics – and, even more, the ways politics "disciple" us. Continuing his ongoing engagement with Augustine, Smith argues that we are liturgical creatures, shaped ...

Smith is a scholar for whom I have great respect. I have not had the chance to read the first two volumes of the Cultural Liturgies series, but I am planning on it. "Awaiting the King" is a volume that can stand on its own, especially if you have read some of Smith's other work. "You Are What You Lo...

One of the brilliant insights of Smith's book (and others in the trilogy) is that we are worshiping creatures whose hearts are formed and deformed by the million competing liturgies to which we are exposed. In the past, I've envisioned myself as keeping politics at arm's length. I had no use fo...

Preachers are often cautioned to steer clear of politics, and yet the biblical story is very political. Jesus himself was executed as political figure. The Romans didn't care about intricacies of Jewish theology, but they did pay attention to claims of being a king. So, Pilate had him executed. The ...

In a world where the Christian theologians, pastors, and laymen routinely communicate co-opted political stances, where televangelists preach the "gospel" of the Religious Right or where T.V. pastors preach the "gospel" of the Christian Left, and, yet, where Christian engagement in "politics" is oft...

It's hard to put into a short summary the depth and breadth of what Smith covers in this book. First, the reader should understand that this is the final in a trilogy of books (Cultural Liturgies) by Smith which advocate and engage liturgical theology. If you haven't read either Desiring the Kingdom...

I love Smith, and I loved this book. I wrestle with so many of the things that Smith talks about in this book, related to politics, political action, the role of faith, cynicism, doubt, skepticism and hope. I think chapters 3 and 4 provided some tough sledding through O'Donovan and his thought, but ...