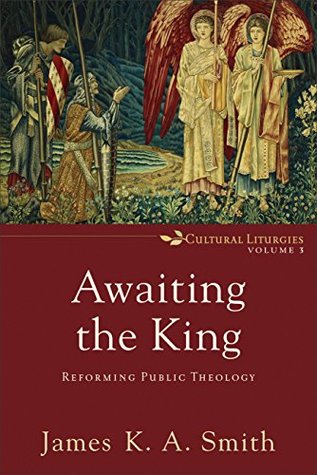 In this culmination of his widely read and highly acclaimed Cultural Liturgies project, James K. A. Smith examines the political through the lens of liturgy. What if, he asks, citizens are not only thinkers or believers but lovers? Smith explores how our analysis of political institutions would look different if we viewed them as incubators of love-shaping practices--not m...
| | | |
| --- | --- | --- |
| Title | : | Awaiting the King: Reforming Public Theology |
| Author | : | |
| Rating | : | |
| Edition Language | : | English |
---
Awaiting the King: Reforming Public Theology Reviews
3.5/5.One of the dangers of challenging yourself to read 75 books in a year is that it can make you read too fast to appreciate a book. This is only exacerbated if your reading of the book is fragmentary and even WORSE if you are not reading it alongside someone else so you can digest and discuss th...

Watch Smith's video comment here. A Baptist reviews it here....

In James K.A. Smith's 3-volume series "Cultural Liturgies," he has argued that all human beings (not just the religious) are religious. All humans have a notion of the "good life" and engage in "worship" and "liturgical practices" to get to that telos. Though the Reformation and Enlightenment taught...

This is the book I've desired to read for about the past three to four years. Someone finally wrote it. (I was starting to worry I'd have to write it myself). Chapters one and two bolster the political nature of the church. Then chapters three through six work out the implications for Chri...

One of the brilliant insights of Smith's book (and others in the trilogy) is that we are worshiping creatures whose hearts are formed and deformed by the million competing liturgies to which we are exposed. In the past, I've envisioned myself as keeping politics at arm's length. I had no use fo...

Preachers are often cautioned to steer clear of politics, and yet the biblical story is very political. Jesus himself was executed as political figure. The Romans didn't care about intricacies of Jewish theology, but they did pay attention to claims of being a king. So, Pilate had him executed. The ...

A nice conclusion to a remarkable trilogy. While each volume seems to have to have it's own eclectic style and concerns, this seemed to me to be the most eclectic of the three. I began this trilogy now around 5 years ago and to finish it now I can see how it has shaped my thoughts on things like the...

Summary: A theology of public (and not just political) life exploring both how public life is "liturgical" and the church "political" and the possibilities and limits on engagement in the life of the "city of Man" for those who identify their hope and citizenship with the "city of God."The 2016 elec...

Ever heard of a reviewer posting a disclaimer at the start of their review?After reading James K.A. Smith's AWAITING THE KING (the third volume in his Cultural Liturgies series) I feel obligated.First, I'm not a theologian. Second, I'm not from academia. Third, I'm pretty sure I?...