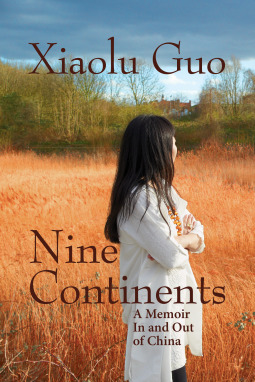 Xiaolu Guo is one of the most acclaimed Chinese-born writers of her generation, an iconoclastic and completely contemporary voice. Her vivid, poignant memoir, Nine Continents is the story of a curious mind coming of age in an inhospitable country, and her determination to seek a life beyond the limits of its borders.Xiaolu Guo has traveled further than most to become who s...
| | | |
| --- | --- | --- |
| Title | : | Nine Continents: A Memoir in and Out of China |
| Author | : | |
| Rating | : | |
---
Nine Continents: A Memoir in and Out of China Reviews
Absolutely wonderful memoir by a woman beyond impressive. She talks about alienation and perseverance, about loss and art, about growing up and finding herself, and everything in-between. Xiaolu Guo's life sounds like something out of a movie: born to an intellectual who had spent time in a labour c...

I have loved and found Xiaolu Guo's fiction so fresh and original since 'A Concise Chinese – English Dictionary for Lovers'. I was thrilled when I discovered that she had written a memoir and 'Nine Continents' didn't disappoint. At all. Far from it, I found this bo...

An introspective view of the author's life in China. I cannot imagine growing up as she had - starting in a poor fishing village living with her grandparents, then moving with her parents to a town where her life wasn't much better. While the book is a memoir, it does have quite a bit of history of ...

Excellent memoir. It is an eye opening experience to read about growing up female in communist China. Xiaolu was given away as a small child, only to be returned to her grandparents when her adoptive family couldn't afford to feed her. She spends her childhood growing up in a small fishing village w...

I received an advance copy of this book in exchange for an honest review.I like to read memoirs and especially those where the author is writing about something which really holds your interest. This is one of those books. I found the description of the author's childhood totally absorbing. Her life...

An open real raw look into a world few of us know.Xiaolu shares with us her childhood her raising by her grandparents in their very primitive world her grandmother had bound feet,Her parents finally coming to get her bringing her into their world the world of commune living communist sharing rules l...

My review: https://theblankgarden.com/2017/09/14......

Upon the birth of her daughter in England, writer and filmmaker Xiaolu Guo reflects on her life up to this point: her early years raised by her grandparents in a Chinese fishing village by the sea, her school years with her parents in an industrial town, her delve into film studies in a rapidly chan...

Xialu Guo's memoir takes us back to a tiny fishing village in China. Her parents couldn't care for her when she was a baby, so her mother gave her to another poor couple to raise. By the time the couple found her grandparents and took her to them, she was starving to death. Her grandmother managed t...