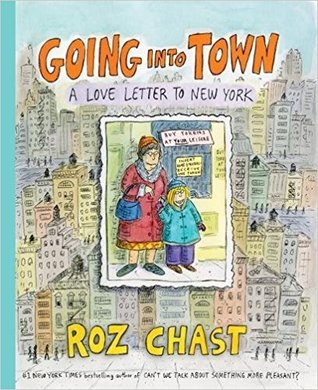 From the #1 NYT bestselling author of Can't We Talk About Something More Pleasant?, Roz Chast's new graphic memoir--a hilarious illustrated ode/guide/ thank-you note to Manhattan.A native Brooklynite-turned-suburban commuter deemed the quintessential New Yorker, Roz Chast has always been intensely alive to the glorious spectacle that is Manhattan--the daily clash of sidewa...
| | | |
| --- | --- | --- |
| Title | : | Going Into Town: A Love Letter to New York |
| Author | : | |
| Rating | : | |
| Edition Language | : | English |
---
Going Into Town: A Love Letter to New York Reviews
This is a charming love letter to New York City from cartoonist Roz Chast. I had liked her previous book, "Can't We Talk About Something More Pleasant?" and was thrilled she had written another one.Chast said this book started as short guide for her daughter when she moved to Manhatta...

Roz Chast grew up in Brooklyn (before it became trendy) in the same neighborhood that I did; in fact, we even attended the same high school. So I laughed out loud when she describes the destiny she avoided: commuting every day to Manhattan wearing beige support hose and clinging to a subway pole.For...

I wish I had read Roz Chast's "Going Into Town: A Love Letter to New York" before my recent trip to New York City! While not a guide book in the strictest sense, there is actually a lot of information and good advice packed in here! Not to mention humor! I'm a long-time fan of Ch...

If you love Roz Chast, or New York and have perhaps developed a soft spot for graphic art books ......secretly knowing "Can't We Talk About Something More Pleasant" is when your love, appreciation, and admiration, for 'graphic art' books first grew.....then there is no reaso...

I just read indie comix artist Julia Wertz's Tenements, Towers & Trash: An Unconventional Illustrated History of New York City, and was reminded of other love letters to NYC I have read in recent years: Cheap Novelties: The Pleasure of Urban Decay, Ben Katchor, and See the City: The Journey of ...

So many reasons to love this book! Roz Chast for one - her humor, her fabulous illustrations and her intimacy with her subject. NYC for another - what's not to love! I got half-way through and deemed worthy of 5 stars.Looping back now that I've finished . . . I love Roz Chast and have been enjoying ...

Less personal than "Can't we..." so if you're expecting something cathartic you'll be disappointed. It's really a Manhattan travel guide but just focusing on whatever Chast thinks is important. I'd get it from the library (or buy it as a gift for someone from out of town and read it before giving it...

My introduction to graphic novels was the funny and deeply moving memoir Can't We Talk about Something More Pleasant? It was very good. This book was more guidebook than love letter. It is clear that the author loves NYC and this has good information, but I was hoping for many more personal st...