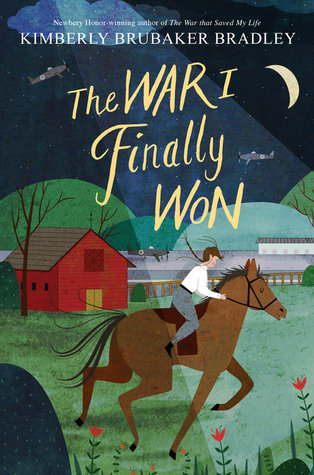 Ada and her younger brother, Jamie, now have a permanent home with their loving legal guardian, Susan Smith. Although Jamie adapts more easily, Ada still struggles with the aftermath of her old life, and how to fit into her new life. World War II continues, and forces the small community to come together and rely on one another. Ada has never been interested in getting to...
| | | |
| --- | --- | --- |
| Title | : | The War I Finally Won |
| Author | : | |
| Rating | : | |
| Edition Language | : | English |
---
The War I Finally Won Reviews
I *loved* The War That Saved My Life and friends, this is a worthy sequel. I am in awe of Kimberly Bradley's ability to create characters that are so real, feeling emotions that are so raw that the reader can't help but feel them, too. The growth and development of these characters through the story...

Whoa, one of the few books of this year I longed to return to and mourned its end. Ada's prickly voice shines. Lady Thorton more than makes up for the one-note Mam of the first book. A thornier Marrila Cuthbert. ...

Trying to put this review into words is so difficult. The story, the characters, the history...it was all done SO well. Kimberly allows us to see Ada to her core. She begins to help us understand the impact of neglect and abuse, the gravity of war, and depth of beginning to understand a concept that...

THE WAR THAT SAVED MY LIFE is a hard act to follow but I think I have liked this follow-up even more! The bonds of family and friendship are tested and strengthened again as the war continues to wreak havoc on Ada's life. Bradley does not shy away from writing about Ada's anger and confusion and her...

"Love isn't as rare as you think it is...You can love all sorts of people, in all sorts of ways. Nor is love in any way dangerous."I've devoured this series within a week of "discovering" it, and now don't know what to do with myself. Thoroughly enjoyable and edifying. I would eat it if I could. I ...

Bawled my way through this one as well. Happy and sad, and adds a new dimension (or two) to Ada's war. (Both her personal war, and the actual war with Germany.) So interesting to see what it was like for children, on the ground in England. So much is written (or at least, most of what I've read) is ...

CHOREI BALDES, mas baldes mesmo, com essa continuação, escrita de maneira tão delicada e verdadeira. O amadurecimento da Ada e as coisas que ela precisa enfrentar pra aprender a viver livre de verdade, aprender a vencer a guerra dentro dela, é digno de nota. Vale cada página <3 ...

Resenha no canal: https://youtu.be/RWJABtug0yM :DAmei!Chorei!Feliz por saber o que aconteceu com Ada depois do primeiro volume....

The War I Finally Won (The War That Saved My Life, #2) A very cool kids' book. :PQ:You can know things all you like, but that doesn't mean you believe them. (c)Q:Mam hadn't been much for words, and there was a limit to how much I could teach myself, looking out the one window of our fla...