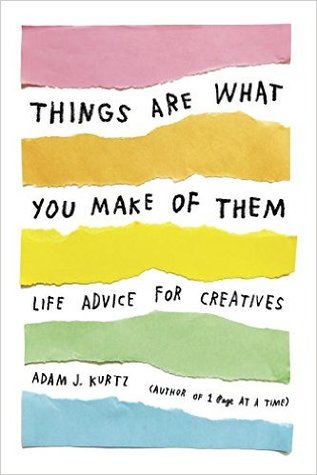 Insights and inspiration for anyone who makes art (or anything else), from the popular author of 1 Page at a Time and Pick Me Up From the creative mind and heart of Adam J. Kurtz comes this quirky, upbeat rallying cry for creators of all stripes. Expanding on a series of popular guides he's created for Design*Sponge, this handwritten and heartfelt little book shares wisdo...
| | | |
| --- | --- | --- |
| Title | : | Things Are What You Make of Them: Life Advice for Creatives |
| Author | : | |
| Rating | : | |
---
Things Are What You Make of Them: Life Advice for Creatives Reviews
I'm a fan of pretty much everything Adam does, so I'll admit that I went into this expecting I'd like it, but it was even better than I expected. As he always does, Adam provides the perfect mix of wit and inspiration. If you're a creative person (or just a person in general...), you'll wanna read t...

(ARC from publisher)I found the advice mostly obvious, and the voice a bit too jargon-y/commercial-art-y for my tastes. YMMV. But since what I want from self-help-y books is novel insight and/or eloquent prose, I wasn't thrilled with this one....

i wrote this book i think it is very nice i like that the author doesn't try to act like he's the expert or better than anybody else, he's just really honest about what life is like for people who try to make things. <3 also he seems very handsome and tall <3...

This book is just what I needed because I realized a while ago that I was becoming a negative person overcome by all the bad things happening around me and in the world. It was hard to see the goodness day-to-day and I did not like the person I was becoming. I have been practicing re-framing and my ...

Adam J K é um dos meus artistas favoritos e eu provavelmente sempre vou amar qualquer coisa que ele fizer. Eu sou apaixonado pelas suas cores, seu traço e sua visão de ver o mundo.Esse aqui é meio que um livro de auto-ajuda para pessoas criativas, todo em forma de notas escritas a mão...

2018 Read Harder Challenge: A one-sitting book. I get so much out of reminders like these. And although I still look askance at the word "creative" used as a noun, a lot of this advice really spoke to me, especially "be more of your own best" and "maybe try trying." I really liked the Acknowledgment...

"Sometimes, some of us, maybe, possibly, talk about doing things & then don't do them. Hold yourself accountable for your fresh start. Don't let planning the thing trick your brain into thinking you've done it."There are lessons we've known by heart for years and end up forgetting when needed the mo...

For the exhausted full-time employee and full-time passionate.I was in love with this quick and witty read. After a year slump with my art I'm fjnally getting back into the swing of things but in the process, juggling a full-time day job (with a lot of extra overtime). I admit sometimes I struggle g...

very very short. these were probably more awesome in their original blog form than as a book...