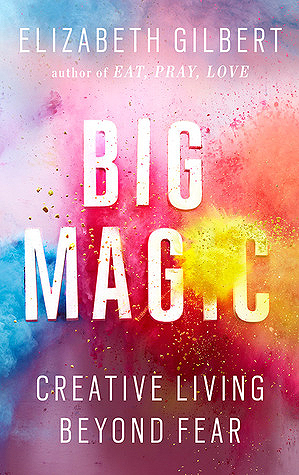 Readers of all ages and walks of life have drawn inspiration and empowerment from Elizabeth Gilbert's books for years. Now this beloved author digs deep into her own generative process to share her wisdom and unique perspective about creativity. With profound empathy and radiant generosity, she offers potent insights into the mysterious nature of inspiration. She asks us t...
| | | |
| --- | --- | --- |
| Title | : | Big Magic: Creative Living Beyond Fear |
| Author | : | |
| Rating | : | |
| Edition Language | : | English |
---
Big Magic: Creative Living Beyond Fear Reviews
Thank you, Elizabeth Gilbert, for writing this much-needed book on creativity. It was practical, helpful, comforting and inspiring. I know it will be a book I recommend over and over again to writer and artist friends, and anyone else who wants to live a more creative life.I've been struggling for a...

Is it mere coincidence that BIG is synonymous with FAT and that MAGIC is one of those oblique words difficult to put your finger on, like CHANCE? Because I think that's a better title for this book: Fat Chance. That's the message here: you're gonna fail, you big loser! Where's the big magic in that?...

The message is...."we are all inherently creative". Elizabeth Gilbert says..."Be an artist. Create for the sake of creating". "Because creative living is where the Big Magic will always be". And we paid money for this enlightening information. It's kinda funny to me... how such an average book, by a...

Talk about receiving the right message at the right time. Wow. Big Magic is one of the most honest discussions about the creative process that I've ever read. Gilbert strikes a playful and conversational tone, but make no mistake, this is all straight talk. Her no BS attitude helps do away with...

I appreciate and respect Elizabeth Gilbert's attempt to inspire creativity, and can fully see why people could love this and take a lot away from it.. but there were too many fundamental things that I disagreed with/thought were done poorly for me.1) Creativity as a type of religion: I don't know if...

Favorite Book of the YearWhere to start? This book knocked my socks off. Which is pretty strange given that I've always been a die-hard cynic (with really tight socks). I've always rolled my eyes at spirituality and snidely called it woo woo (now I murmur woo woo with affection). And self-...

Preach, Vain, SnoreYou know, I didn't enter into this as a "hate-read", despite being such a cynic. I don't like to waste my time and money on things just to have something to snark at (I can already hear the snickering in the audience as I write that). You see, with any of these advice books I actu...

"I don't know what I think until I write about it."― Joan DidionI was in need of a Nonfiction read to compel me from the start when I came upon Big Magic. Elizabeth Gilbert starts off this very book by writing about a reclusive poet she's passionate about ("I l...

This & 'The Signature of All Things' are my fave Gilbert books. As the audiobook reader in addition to writer, she does an incredible job of sounding polished, relaxed, & truly encouraging. Read or listen to the end for the 2 best of all her great annecdotes....