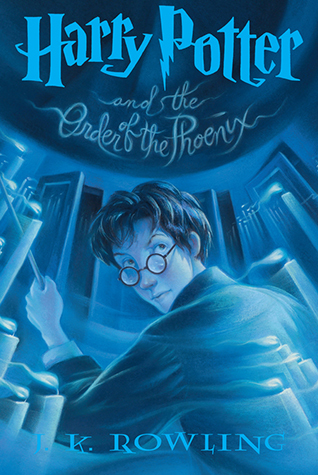 Harry Potter and the Order of the Phoenix is the fifth novel in the Harry Potter series, written by J. K. Rowling. It follows Harry Potter's struggles through his fifth year at Hogwarts School of Witchcraft and Wizardry, including the surreptitious return of the antagonist Lord Voldemort, O.W.L. exams, and an obstructive Ministry of Magic. The novel was published on 21 Jun...
| | | |
| --- | --- | --- |
| Title | : | Harry Potter and the Order of the Phoenix |
| Author | : | |
| Rating | : | |
| Edition Language | : | English |
---
Harry Potter and the Order of the Phoenix Reviews
I cried like a little baby. J.K. Rowling really starts taking the series down a darker road in this book. She is so talented at character development, and it really shines in this book. Here, Harry is 15 years old, and for most of the book, he's whiny and self-centered, just like a typical teenager....

Interview with JK Rowling... Stephen Fry: Can we settle an important question?JK Rowling: Yes.Stephen Fry: How do you pronounce your last name?JK Rowling: It is Row-ling. As in rolling pin.Stephen Fry: So if any of you hear someone pronounce her name "Rohw-ling", you have my permission to ...

Re-Read in December 2014 for Harry Christmas To Youok. I will start by saying that this is one of my least favorite books in the series, and that isn't because it's bad, BECAUSE IT IS DEFINITELY NOT. It's mainly due to the fact that I hate Umbridge more than words can translate, and having to read a...

Dear Dolores Umbridge, (view spoiler)[R.I.P. Sirius Black. Best friend, godfather, member of the Order. The injustice of it all hurts me every time I read this book. You will never be forgotten. <3 (hide spoiler)]["br"]>["br"]>["br"]>["br"]>["br"]>["br"]>...

Seriously, don't read this review if you haven't read the books. The biggest compliment I can think to give an 870 page book is that I wish it had been longer. I wish this had been longer. This book has always been my favorite in the series. Up until it, Harry's story had been filled with light...

I had to re read it. I was in such a nostalgic mood....

"Is it true that you shouted at Professor Umbridge?""Yes.""You called her a liar?""Yes.""You told her He Who Must Not Be Named is back?""Yes.""Have a biscuit, Potter."This is my favourite book in my favourite series of all time. It's so rich of detail, so full of mysterious and often dark ...

I finished this book with tears in my eyes and laughter on my lips.Just wow, excellent book!...

(obviously a reread) *cries* ...