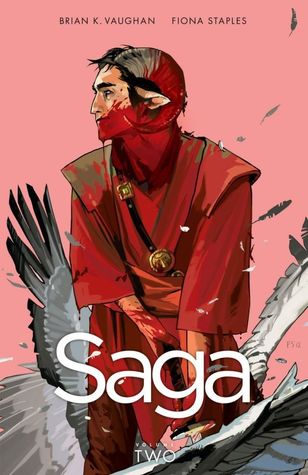 The smash-hit ongoing epic continues! Thanks to her star-crossed parents Marko and Alana, newborn baby Hazel has already survived lethal assassins, rampaging armies, and alien monstrosities, but in the cold vastness of outer space, the little girl encounters something truly frightening: her grandparents!...
| | | |
| --- | --- | --- |
| Title | : | Saga, Vol. 2 |
| Author | : | |
| Rating | : | |
| Edition Language | : | English |
---
Saga, Vol. 2 Reviews
Dear Mr. Vaughan, I do not know what process you go though to produce comics like these. I do not know what dark alchemy you perform, what infernal pacts you have agreed to, what terrifying drugs you must imbibe. I have no idea what arcane rituals you must perform every day, what odd odd habits of d...

First read April 2014Reread in September 2015Third read in January 2018I FORGOT HOW MUCH I FREAKING LOVE THESE...

''Never worry what other people think of you, because no one ever thinks of you.'' Give me an S! Give me an A! Give me a G! How about another A?… SAGA all the way. Oh man, I was never that into comics. Sure, there's a couple I came to enjoy, such as Ms. Marvel, Vol. 1:...

This series continues to blow me away! Loving it!...

Loving this series so far! It's bizarre as hell, but AMAZING! Reminds me a lot of the old Star Wars movies....

review to come, but man, am i loving this series!okay, time for a real review! it's hard to know where to begin….this series is all told from the POV of a girl, detailing the events and adventures of her baby-years and before, including the romantic forbidden love between her parents. it was n...

The art is beautiful, the story is so complex and intriguing and I just love it a lot so far.EVERYONE WAS RIGHT ABOUT THIS SERIES...

Saga is just superb. Aside from the cool characters, its general weirdness and unflinching nature, it also recognises the power of words:And for me that's rather important. This particular book has caused the entire situation, pushing the characters to sue for piece in a world driven by hatred ...

Really enjoying the creativity of this series...the characters...the story arc...the art...all of it....